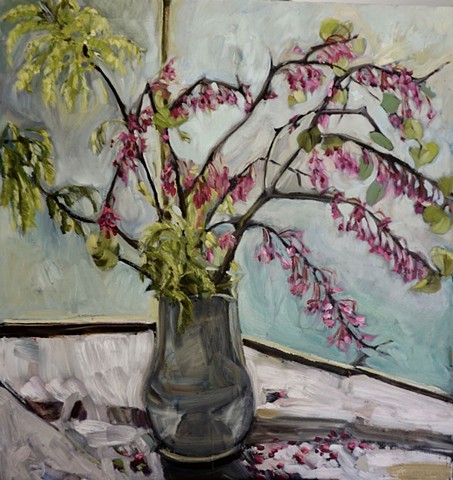 Artist's Statement
Painting is my refuge and my passion. Painting allows me to translate my inner world for others.
The subjects vary according to whim and curiosity: expressions on the faces of birds, the bend of a flower in raking light, the patterns of mowed fields against a silo, and I emerge reinvigorated and often unexpectedly amused at the result. The element of surprise is what fuels my desire to begin again.
Addressing the dialogues between dark and light, hard and soft edges, positive and negative shapes, can be daunting. Simplifying the options to get a feeling across is my aim. When a piece is overworked, I move on to another, hoping to refresh my 'seeing'. Some pieces are never resolved for me, others miraculously construct themselves, as if I were a semiconscious vehicle for the brush. Those are good times in the studio.
The ordinary can become quite intriguing and beautiful depending on the quality of light that illuminates it; what is previously unnoticed can become mysteriously infused with a heightened and powerful essence, by the simple virtue of being noticed.
The application of visible brush strokes in my paintings, the expressive application of paint and line, create movement for the eye, enhancing the underlying composition.
If I am truly present while working, somewhere in the balance between focus and blurred, conscious and unconscious, analytical and creative, a surprise can happen and the painting exclaims itself. This is what brings a painting alive. These are the moments that I hope for in the studio.